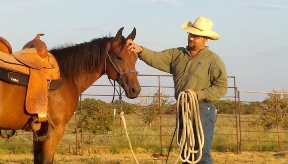 We are a well rounded ranching operation specializing in cattle and horses. Our focus has shifted to a natural beef cow calf operation while retaining several of our cow bred, athletic working horses. We also raise and sell coastal hay, and provide boarding for client horses.

Natural beef is beef raised without added hormones or added chemicals. Our cattle graze native pastures, rest under huge pecan trees and are humanely handled. We are dedicated to providing healthy, natural, grass raised beef. Soon we will be offering sides and quarters of our natural beef to the public. Call us to find out more information!

Our horse operation consists of horses that can work cattle in the pasture, trail ride safely and then go to the show pen and be competitive. We use our horses for all aspects of ranching and are proud to offer our home bred stock for your consideration. We have young stock as well as ranch broke horses for sale most of the time. We stand both a World Champion Reining horse and a Pitzer bred stallion to outside mares. (See the Breeding & Stallions tab above) If you don't find what you are looking for, we offer our expertise of 40 years of horse showing and training to help you locate that perfect mount to realize your dreams.

Rainbow 1 Ranch also raises coastal hay and offers both square and round bales for sale. Most of the round bales are net wrapped and horse quality. The square bales are heavy and tightly baled. We only sell hay that is excellent quality and put up the 'right way'. At times we will have New Mexico alfalfa square bales for sale. Call for availability.
For more information, please