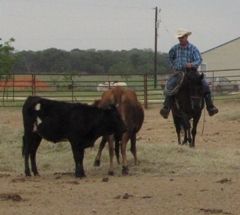 Click on each individual horse picture to see more pictures and a pedigree.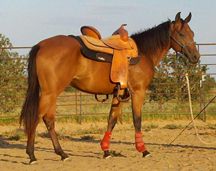 RBO Royal Silver CD - 2009 Bay Filly
Quatros Colores CD x Silver Kings Lynx
"J-Lo" is perfectly bred to cut a cow or do the Working Cowhorse events. She is athletic, willing, quick and smart. Not to mention just beautiful!
She 6 months riding. W/T/L, quiet for anyone to ride. Has speed to be calf horse. Really watches a cow. She lunges quietly with a saddle, loads, hauls, ties, and stands perfectly for the farrier.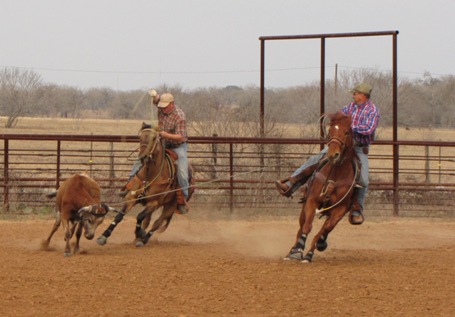 "Baby" RBO DUNNA FAIR DEAL
2005 Dun Mare
Dunnit Rawhide x Jacks Fair Deal
Look at her pedigree! Her sire has NRHA earnings of $78,000+ and has sired numerous champions, point earners and money earners. Her dam has 138 AQHA points in Working Cowhorse and Team Roping.
This mare has every Dun factor marking that can be put on a horse. She has it all: Pedigree, Color, Conformation and Cow! She has a solid foundation in Barrels, Heading, and Heeling. Please continue to her page to view many pictures and a video listed above and below her pedigree.
This mare is broke for anyone who can ride. Heads, Heels, and started on barrels.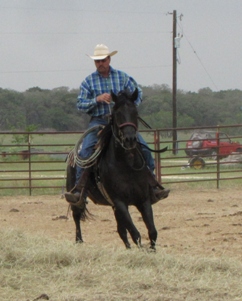 SOLD!
"Belle" RBO DRIFTIN COMPADRE
NFQHA - 83%
RIPS COMPADRE x DRIFTWOOD SNIP SNAP
Blue Roan Mare - 2001 -
Beautiful Blue Roan mare that rides as good as she looks. Quiet, but with plenty of power and speed when you ask for it. Her pedigree goes back to Driftwood twice and she has great foundation sires such as Rip Rip and Leo Hancock Hayes on her papers. She is also registered NFQHA at 83%.
She will ride anywhere - Arena, Brush, Tanks, Pastures. She is a "WILL DO" type of mare, you want it, you got it!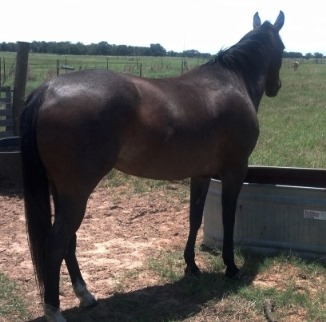 "Dixie" RBO Blue Cash - 4996399
Smooth Blue Snippy x Peppy Cash Flow
Blue Roan Mare - 4/26/07-
90 days under saddle as a 3 year old. Solid built mare. Loads, ties, hauls, stands quiet for farrier.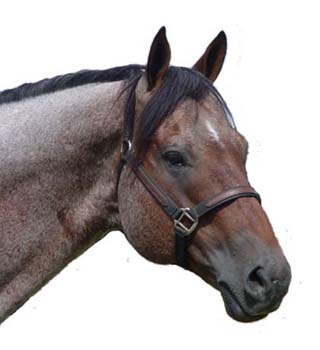 RED ID SURPRISE: 3382180
1995 BAY ROAN STALLION
"Hank" is gentle enough for anyone to ride. Sound. Ropes Heads/Heels. Has been used in all facets of ranch work. Pony colts, pasture rope, arena rope, sort, etc. Loads, ties, hauls, stands quiet for farrier.
He has a unique blend of characteristics: Disposition, Conformation, Pedigree, Athletic Ability, Color, & Cow, and most importantly he is passing it to his offspring. Hank is the best of the best of the Pitzer Ranch bloodlines.
He is an own son of the immortal Two Eyed Bartender (19 Halter pts & 164 Performance pts, AQHA Champion, Superior Heeling, 2x World Champion: sire of earners of 47 Halter pts, & 1355 Performance pts, 19 ROM's, 8 Superior Performance, World Champion Top-10, etc)
and out of a fabulous daughter of Mr Baron Red (43 Halter pts, 298 Performance pts in Calf Roping, Heading, Heeling, Cowhorse, & Reining; AQHA Champion, Top-10 AQHA High Point 8x, Top-10 AQHAWorld Champion 7x, 1983 Super Horse, etc; Sire of earners of 125 Halter pts, 83 Performance ROM's, 3 AQHA Champions, 3 Performance Champions, 47 Superior Awards, 4 World Champions, 22 Top-10s, etc) .
He was born, bred, and trained at the Pitzer Ranch before he was purchased and taken home to stand to a very small, select band of broodmares. From a limited number of foals he has sired winners in Calf Roping on the PRCA circuit as well as big winners on the WPBRA.
If you are looking to breed to a stallion with: size (15.2), color (80% of his babies are colored) and a great mind, this may be the stallion for your operation.